Tech Sector
Intelligence
The IQBlade platform provides marketers and salespeople with unique, real-time data insights that enable them to identify, target and interact with the right prospects at the right time.

Work smarter

Optimise Performance
Platform Features
Use IQBlade's features to optimise your partner ecosystem, understand your customers or identify new sales prospects.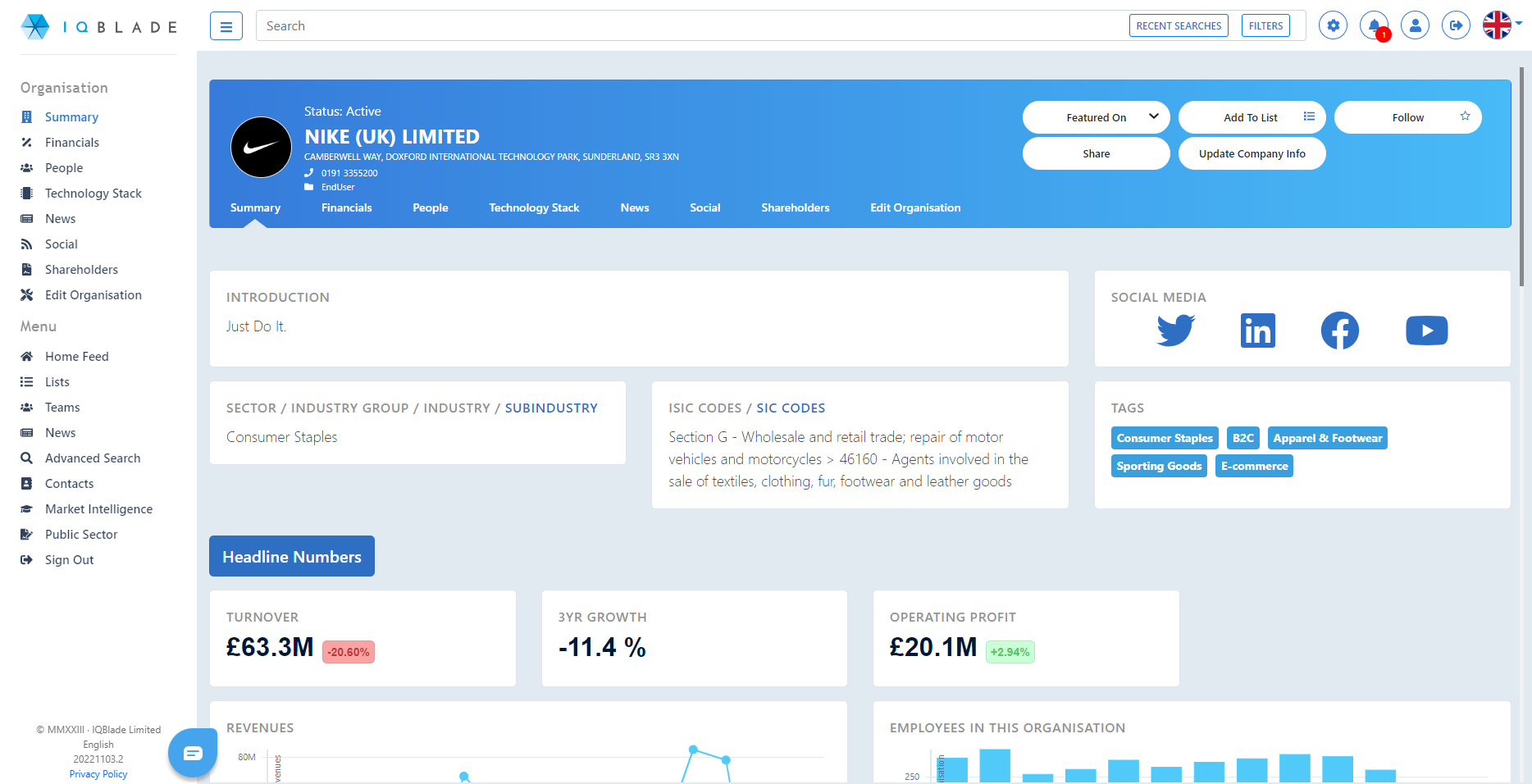 Organisation Overview
The Organisation Overview is an effective and efficient way to learn about your known competition, it is displayed when directly searching for a company and selecting them within the platform. Within the Organisation Overview there are 6 separate tabs, these tabs are as follows:
• Financials – Shows a variety of financial information about the company including Summary, Income Statement, Balance Sheet and Ratios
• People – Shows the key figures who work for the organisation along with relevant contacts within the business
• Technology Stack – Displays the technology a business is using with an attached intensity score to determine accuracy
• News – A business specific news feed displaying all news relevant to the selected company
• Social – Displays the Twitter and YouTube social channels in real-time along with some basic statistics and information about the channel's performance
• Shareholders – Displays a list of company shareholders
Competitor List
Creating a Competitor List allows you to store multiple competitors into a list within IQBlade, this adds extra options that can be utilised within the competitor analysis process. Not only does it ensure that you can keep all of your competition in one place for easy analysis, but you can also compare the financial data between the included companies through the dashboard tab within the list.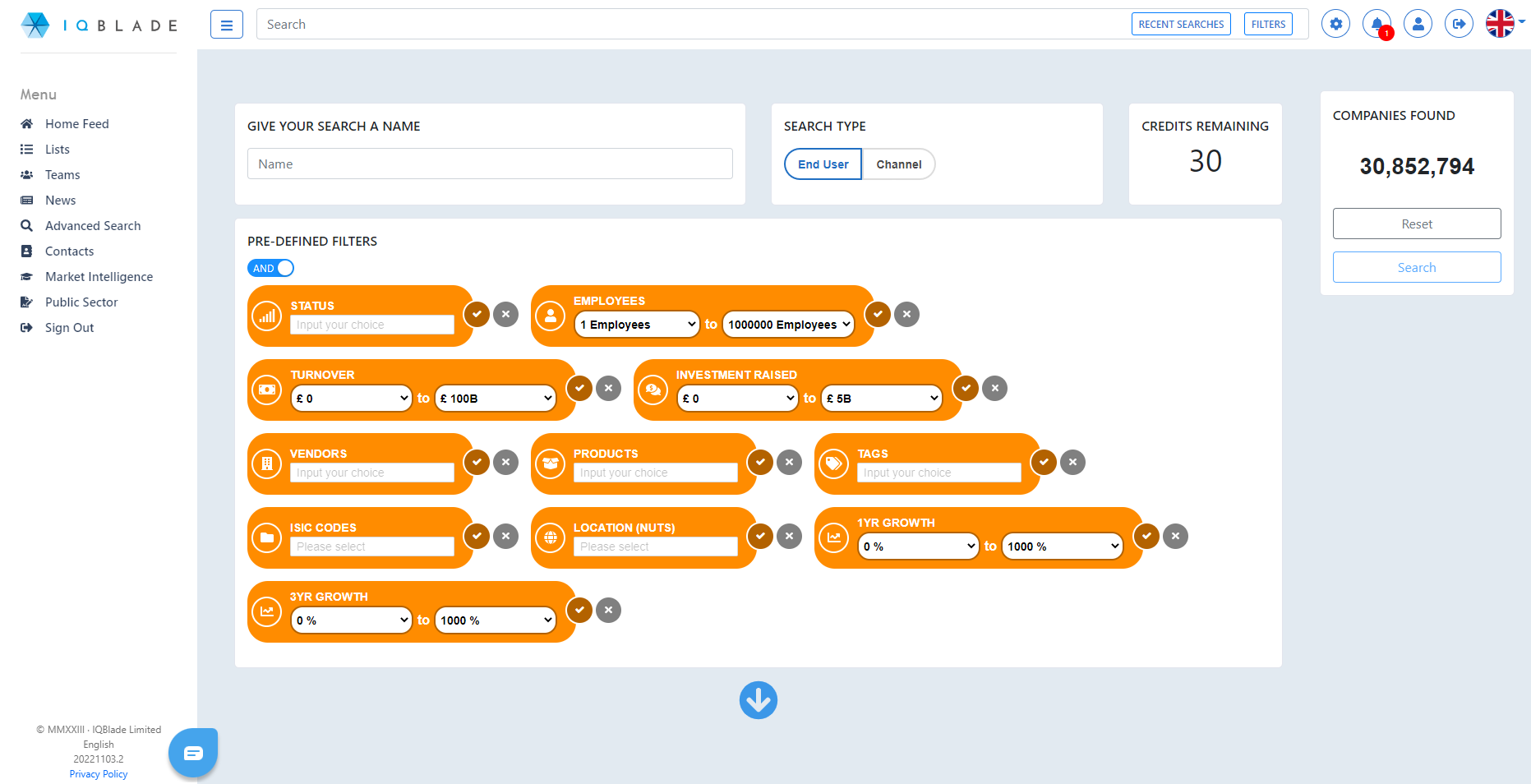 Advanced Search
The Advanced Search tab may be exactly what you are thinking it is, effectively it is a way to search through the over 30 Million companies currently stored within the platform using a number of pre-defined advanced filters to find your exact target audience. There are currently 11 pre-defined filtering options that can be used within an Advanced Search, these filters are as follows:
• Status
• Employees
• Turnover
• Investment Raised
• Vendors
• Products
• Tags
• ISIC Codes
• Location
• 1YR Growth
• 3YR Growth
Through using these filters, you will be able to identify companies that fall within your target audience and then target specific people within those companies, creating a list of business contacts that you can market and sell to.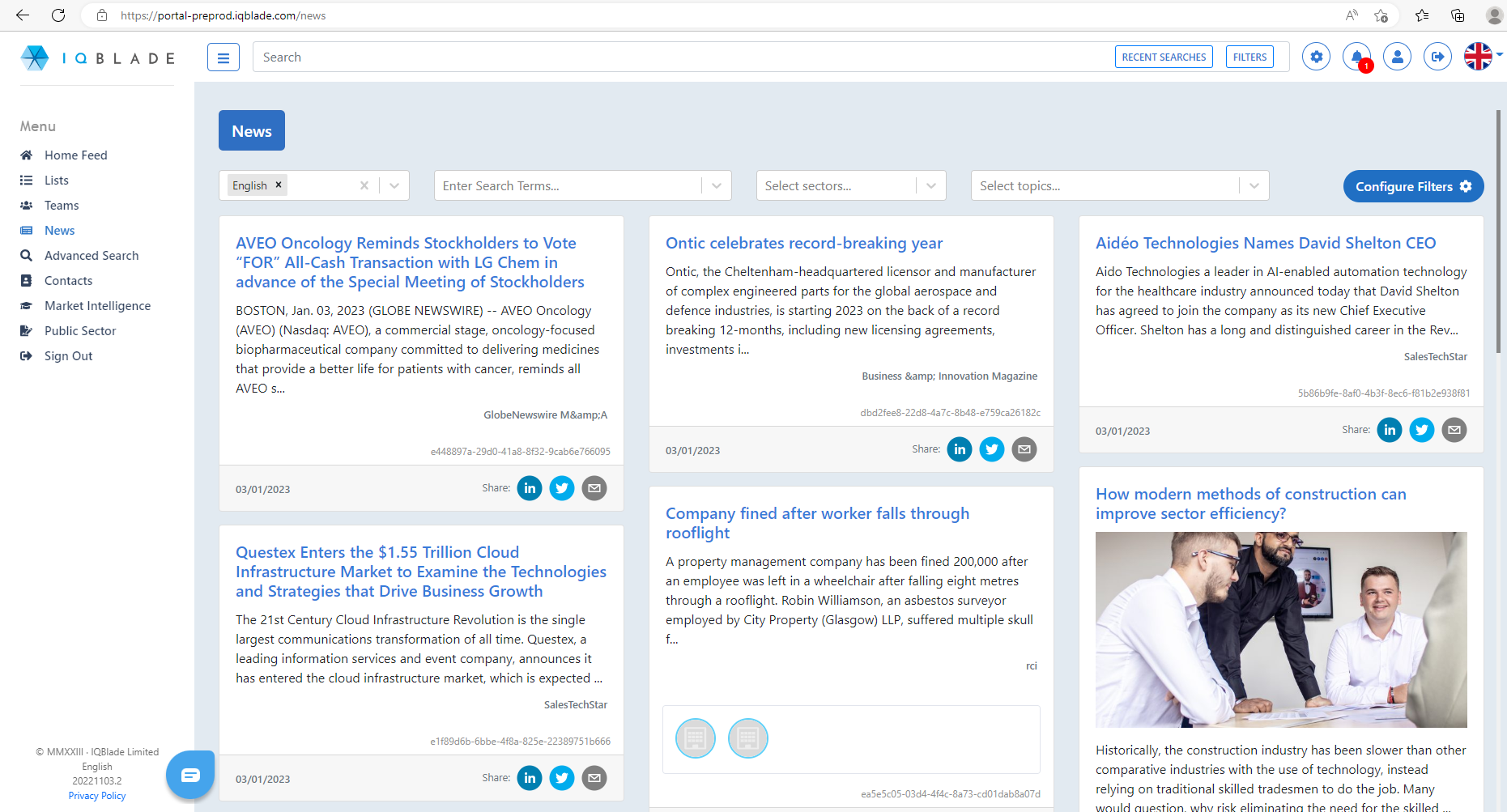 News
Within the News Tab of IQBlade you are able to filter through a large, continually updated library of news articles related to companies all over Europe. You can filter by:
• Language
• Search Terms
• Sectors
• Topics
The news will be displayed based on recency by default allowing you to sift through the articles and find the most relevant content to use within your marketing initiatives. Additionally, each news pane offers the ability to share directly to social media channels such as LinkedIn and Twitter to create real time posts or through email for sharing around the business to relevant parties for confirmation/clarity.